|Arlan Opran|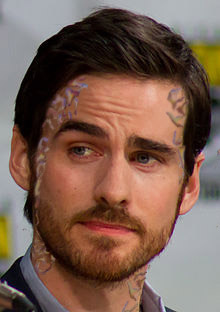 Basics
Name: Arlan Opran
Species: Trill (Unjoined)
Gender: Male
Date of Birth: 3/8/2350
Age: 28
Appearance
Height: 5'7"
Eyes: Brown
Hair: Black
Characteristic elements: Like all Trill, Arlan has spots running along the sides of his head and neck.  However, due to his condition, his are more prominently bruise-colored, ranging from sickly yellows to dark purple along his spine.
Backstory
Arlan's grandmother was a senior member of the Symbiosis Commission, his father is a Federation diplomat, and his mother is a skilled civilian doctor.  So the experience of his life was a bit of a depressing one, because of an event in his early years.  His father was off-world, negotiating trade rights with a nearby species.  Thanks to some flaw in his genetic code, Arlan's body developed a rare and incurable condition that makes his body chemistry completely toxic to symbiotes - he can't even take or give successful blood transfusions with a joined Trill if injured.  Unfortunately, this condition also makes him somewhat more susceptible to disease than other Trill, and requires that he keep a specific low-protein diet, which is generally vegetarian.  On the other hand, as long as he has reasonable medical care and can balance his diet, he's likely to live out the lifespan of a normal Trill.
In Trill society, he is outcast and nearly considered untouchable, a hated image of something which should not be - at least, according to those who bear symbionts.  He's had to fight for everything he ever wanted, and as he saw his classmates and those others of his age take on symbionts, he decided that it was time to leave.  His family doesn't talk to him, and if most people didn't feel he needed a family name, he'd have dropped it to become mononymous.  After all, so many people ask him about the 'Opran symbiote' - and he's had to admit he has no idea about it - it's his father's symbiote, and he doesn't talk to his father anymore.
After putting in two years as a part of a freighter crew and traveling most of the Alpha Quadrant, Arlan finally made his way to Earth, to join Starfleet.  He'd learned the Tactical stations aboard an old J-Type Freighter, so it was only logical that he went to the same department in the Academy.  It was hard for others to understand that the Trill they were looking at didn't have hundreds of years' experience behind him, but was instead exactly as he appeared - a twenty-something year old kid with two years aboard an old freighter.  He still had to fight, especially since so much of the Trill experience was based around the symbiote and absorbing its knowledge.  So he continued learning, and is now finally at the level a human would be; though his experience with 'social graces' are more fitted toward civilian shipbound life than a more normal existence.  He buckled down for his studies, and showed all of his professors that he was very eager to learn.  Academy was uneventful, and the
Phoenix
will be his second ship-board duty outside the Academy.
As a Tactical officer, Arlan is qualified on all shipboard weapons, as well as designing battleplans (though he doesn't feel he's that good at it; and he's not when compared to Vulcans or Joined Trill of a similar age).  He has a better-than average qualification on hand weapons, but he's not a Security officer, he focused on Tactical at the Academy.  He's one of the best in his class for the operation of Runabout weapons and their rudimentary repair; though he's so far spent much of his time in the Torpedo Room working with high-powered explosives and other things launched from the tubes, as well as monitoring phaser banks as needed.  His officer commission has resulted in him being authorized to lead a team of Tactical crewmen, sometimes even running a torpedo room himself, or commanding a Runabout for a small-craft combat.  He's also cleared to fly
Peregrine
-class fighters or other small ship in a dogfight.
Career
Enlisted or Officer?: Officer
Department preference 1: Tactical
Department Preference 2: Security
Service Record
2368 - 2370: Federation Merchant Marine service, Midshipsman, SS
Sophie
, J-Type Freighter.
2371 - 2375: Starfleet Academy, Earth and satellite campuses.  Cadet Ranks and Ensign.  Tested for commission. A few early comments about his knowledge base which disappear as time goes on; but anyone who looks at his record will understand there's something strange about this young Trill.
2375 - 2378: USS
Honshu
NCC-60205 (
Nebula
Class), Ensign.  Tactical Officer, assigned to manage Pod Torpedo Bay & Phaser Bank and occasional Runabout duties.
2378 - : USS
Phoenix
NCC-65025, Ensign. Tactical Officer
Sample Post
You have arrived at your newest assignment...
Arlan was playing with his tricorder the whole trip out to
Aurora
, there to meet with the
Phoenix
.  As much as he'd resisted the Commissioned track, he had to admit that there were perks.  Like his own quarters.  Being on an old rustbucket freighter with a dodgy warp-core, constantly having to barter for or buy deuterium and new dilithium crystals (the ship was too old to have a recrystallization chamber, and the rudimentary Bussard collectors had blown out, probably before Arlan's birth) had taught him a thing or two about "personal space."  
But he'd grown used to having his own room again, and being able to stretch his legs.  Heck, he was glad for the little things, like torpedoes that didn't run a high risk of blowing up in the the tube and autoloaders that worked properly.  Sitting in the Runabout with a bunch of others coming for new assignments, he just kept glancing at the Tactical board.  He couldn't help it, there was a built-in paranoia about the job; and he saw others glancing at their own stations too.  The big advantage of being on a runabout full of people going to their next assignment was that if something did go wrong, there were enough people around who knew what they were doing.
And then there she was. She wasn't too different from the
Honshu
, honestly.  The Tactical Pod was a little more cramped than a full Weapons Pod, but not by much.  Just from the pod battery alone, they could put out a volley of 30 torpedoes per minute - more if they planned for it and disabled the autoloaders.  The phaser was the Type-X PD unit he'd become accustomed to - and
Phoenix
looked like she'd put hers to work.  He honestly hoped he'd be put back there.  Being up in Deck C was where all the action really was; where you cut the wheat from the chaff.  His only concern was that the new Sec/Tac chief he'd heard about was just that - new.  And he'd been warned by several older officers in the mess hall on
Honshu
to avoid newly-promoted officers, as they regularly clamped down more than was necessary and made lives harder.  He hoped that wouldn't be the case here.
He got his small bag and walked over to the ship. "Uh, Arlan Opran, reporting for duty."
The gruff-looking Bajoran man looked disinterested in the Station and for all the world like he'd rather be anywhere but there at that moment.  He glanced down at his PADD and gestured in. "Yup.  Get to Sickbay, the doc wants you."
Arlan actually grinned at that one. "Every doc in the Quadrant wants me, it seems. Long story.  Well, see ya later."
The older man harrumphed pointedly and went back to standing at attention while looking around.
Meanwhile, Arlan actually found himself grinning at people as he made his way to the Sickbay... wow, these two sister ships were so much alike it was downright spooky.  He wondered if the people would be the same too.  That would be really scary.
Behind the Mask
Have you done textbased RP before?: I play Kejal Buris.
How did you find Aurora?: See above.
Additional notes about yourself or your character?: